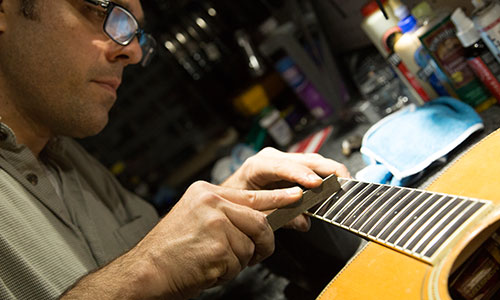 Stop by or contact us for more information about service and repair.
102 Main St
Warrenton, Virginia 20186
(540) 347-7484
info@drumnstrum.com
Do you need help tuning your instrument, or maybe it doesn't play as well as you think it should? The experienced professionals at Drum & Strum can take care of all of your instrument repair and tuning needs. With more than 50 years of combined experience among our technicians—we can bring your old instrument back to life or make your new one play like you always dreamed it would.
We can take care of basic set-ups to vintage restorations and everything in between. Please stop by and see us for a free evaluation and repair estimate. We look forward to helping your instrument reach its full potential so you can get back to playing and enjoying it!
We work on:
Guitars
Bass
Banjos
Mandolins
Violins
Violas
Cellos
Ukuleles
Have another instrument in need of service or repair? No problem.
We can work on it.
The repair work is untouchable. I had a huge hole in the back of my guitar and Tim made it look and play like new!